If Mega Man is positioned just right, he can fall right through this screen- missing a confrontation with a Mini Gamma.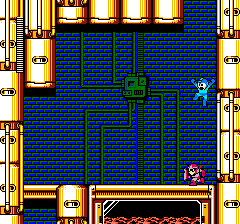 The ever handy Mega Jumping Game Genie code (YEUKOTGA) will help Mega Man get out of the way of Proto Man.

Find a way to shoot the Hologram machine (use Rush to jump or fly up- or use a Game Genie code) or the screen will go dark with stars. Fortunately there are no pits to fall into.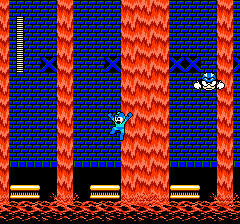 Jump just far enough to the right for the Parachute to fall, then move back to the left and land on the same platform. Now Mega Man can fire at the Parachute without fear of being damaged.

Here's Shadow Man in full force. He looks mad, doesn't he?

As Shadow Man slides towards Mega Man, jump and turn on the Top Spin. Shadow Man will feel the full force of the Top Spin (four direct hits will put him out of commission).

Destroying Shadow Man will earn you the Shadow Blade and Rush Marine.